Everyone knows that the world is hit by coronavirus but most of us don't know that something super crazy & ultra-fast brand is breaking all records over social media amidst pandemic. The number #1 viral brand on social media is 'Fashion Nova' right now.
Many people don't know about Fashion Nova outfits if they are not a fan of Kardashian West or Kylie Jenner but who is not??
Fashion Nova is the most searched brand on google until now. Off-course you can check it out.
Creative people think of selling a few fashion products on Instagram or Facebook by blogging and homemade photoshoots but this ultra-fast fashion brand is built on Instagram with the world's top celebrities and influencers.
Not 1 or 2 or 3 influencers but more than 3000 Instagram influencers across the world with millions of followers are involved in promoting its product.
Fashion Nova has more followers & media value than any of your most desired brands on this planet. It's the biggest hit in the fashion industry across the world within a short span of time.
Data Collected in 2018 shows
Influencer Marketing As Key Strategy
All-time greatest influencer marketing success is this ultra-fast fashion brand 'Fashion Nova'.
Earlier influencer marketing wasn't been considered as a key or traditional marketing tool for brand promotion but now the success of fashion nova company has justified influencer marketing as a strong way forward.
Who is called Social Media Influencer?
Social Media influencers are those who have built a relationship with people on the social platform which results in huge fans following on social media due to their activities & talent related to entertainment, fashion, travel, lifestyle, sports, comedy, etc.
These influencers can be from any field, it's their hard work that builds that relationship with people on social media.
Social media influencers can be at the nano level with 5000-7000 followers and can be at the top with millions of followers.
These influencers can reach to the audience to which your brand may not reach by spending millions on campaigning.
How much social media influencers earn?
An influencer can get 10-20 cents for bringing every fan following to your brand and around 25-50 cents for every conversion of product into a sale. Tracking is based on assigned coupon code to the influencer.
Top-notch influencers deal with brands and promotions on their terms & conditions.
Top Instagram Influencers:
1. Kylie Jenner
2. Ariana Grande
3. Cristiano Ronaldo
4. Kim Kardashian West
5. Selena Gomez
6. Dwayne - The Rock Johnson
7. Beyonce
8. Taylor Swift
9. Cardi b
And many more...
Amidst COVID-19 pandemic, every brand has faced shutdown. And you will be amazed that this is the brand based in Los Angeles, the USA is still making money during the lockdown.
They don't believe much in having fancy physical stores with big bold visual vinyl print campaigns & luxury interiors.
It's all online presence with more than 600 posts every week on social media earns money for this global phenomenon. They don't even have stores in double digits.
The influencer marketing strategy worked for the Fashion Nova company that they became a massive hit on social networking sites.
Now you want to know about fashion nova company owner. Right?
Who is the owner of the Fashion Nova company?
Richard Saghian is the CEO of the company, who used to sell inexpensive clubwear attire in a mall in Panorama City LA. Richard Saghian founded the Fashion Nova brand in 2006 and went live on e-commerce in the year 2013.
In 2016 launched the Fashion Nova Curve Collection and in 2018 expanded the fashion business by launching Fashion Nova Men's Wear Line.
What made the Fashion Nova brand a massive hit over social media?
What would you think of first, if you want to open your own clothing brand?
Let's make a list -
a) Brand Name & Brand Philosophy
b) Investment
c) Target Customer
d) Products
e) Marketing
Do you know the toughest job?
It's Marketing. You can make the product if you love fashion & you have the right taste of fashion products. If people appreciate your outfit and dressing style, you can launch your line.
Every resource is out there. On a click, you can get every raw material in your warehouse.
China is good at providing every raw material at your desk overnight.
But the question is how will you sell the product?
Most of the designers fail at this stage as they are focused & deal with the creative part to create the most awesome product, they believe.
Every designer has psychology and they make products based on their psychology, social & seasonal influence, material to which they get exposed in day-to-day life.
The product can be best looking but selling that product to the target consumer is the hardest part. You will definitely need a full proof strategy and plans to sell your product.
Traditional marketing methods will give you a calculated result but if you want to grow like a giant, you have to think out of the box.
The Fashion Nova brand did not follow any traditional campaigning methods, as the CEO says. Neither opened hundreds of stores at top locations like other brands with all bricks and mortars to grab footfalls or magazine covers to grab little attention.
The CEO, Richard Saghian had other plans for Fashion Nova to directly engaged with customers by hiring their social media influencers.
With less than 700 employees, The brand is ruling the online fashion business via influencer marketing. Influencer marketing on Instagram was their key strategy.
Range of product offered online
Fashion products have the same craving level as food has. The more options you see, the more hungry you feel, and the more you eat.
The food industry follows this strategy for ages. Every Mac Donald store based on demography changes their menu frequently to make their customer believe that they have something new & special for them every-time they visit.
Social media gets multiple visits in a day by individual user and they follow their influencers religiously. The brand's back end team makes sure that their campaign running via influencers is right and reaching influencer's audience correctly.
The influencers talk about Fashion Nova outfits, quality, comfort, price, etc. 'Fashion Nova Fit' was one of the campaigns which ran through Kardashian & Jenner and many more over instagram continuously.
Fashion Nova has pocket friendly & expensive products too for every customer. They have every fashion product you can think of including yoga pants.
Bright, bold and fashionable products which will surely grab anybody's attention. As they look expensive and wearable.
Fashion Nova has a wide range of products with fewer pieces in every style to maintain the exclusivity at a lesser price.
What fashion brands should do during pandemic?
Nobody is saying to close the physical stores but the brands have to come out of their regular marketing strategy that only physical stores can bring sales.
Innovation & up-gradation in thought & actions is always required.
The trend in product marketing has changed and brands must adopt it ASAP to improve their business without getting left behind. The COVID-19 pandemic is not ending soon.
Competition brings speed and the one who moves faster becomes the winner.
Nobody is looking at four season strategy on your website. In the era of fast and ultra-fast fashion, you cannot wait for a clown runway show or magazine cover or a movie star or a singer to promote your product.
When you have more options to offer, you have to show it repetitively over social media by building a relationship with people who already built their relationship with the larger audience.
Every tool may not be perfect for every brand.
Even Influencer Marketing has advantages and disadvantages.
You will save a lot of money by not opening too many physical stores and by not printing thousands of banners and posters, organising runway shows, and seasonal campaigns. So, you won't have to think of a big whooping marketing budget.
Many freelancers are out there to post on behalf of your brand regularly with part time & full time job.
Brands can reach millions of people globally instantly as the influencer's followers indirectly help in campaigning the brand by forwarding and reposting the campaign.
Influencer marketing disadvantage is that it's very difficult to find the right influencer.
If your choice is wrong then it may harm your brand's reputation badly. One wrong move of the influencer can turn your brand reputation upside down.
You may not be able to predict the outcome after investing in influencers. Influencer fraud is also growing day-by-day.
If the product is not of good quality then it may damage the influencer's reputation too.
Few influencer checks product quality before campaigning. There are clauses during the final signing-off of the deal to deal with product quality fraud.
Top influencers don't accept products from every brand and that's the biggest challenge to get top influencers.
Influencer marketing industry growth in year 2020 is expected around $9.7 Billion.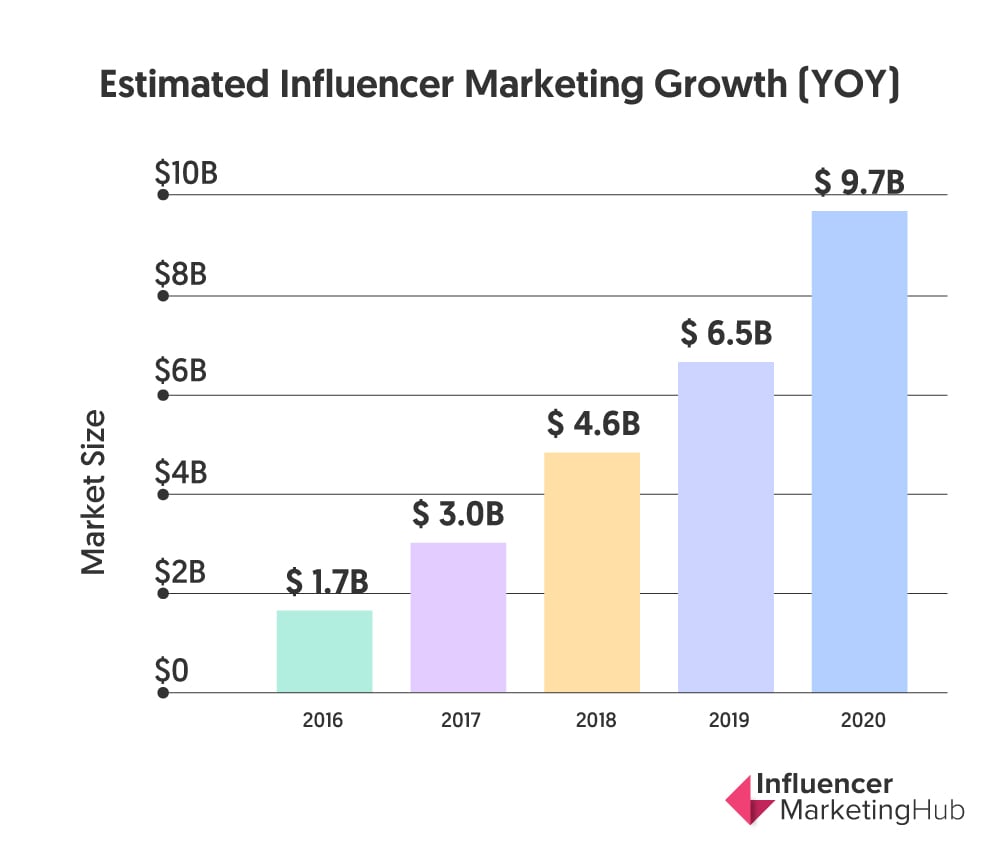 You will be amazed that brands are earning approx. $6 on every $1 spent on media value gain.
Influencer marketing agencies are multiplying in numbers these days to help brands to promote their products hassle-free. They provide in-depth influencer marketing data collected from various social media platforms and partners.
Instagram, Facebook, Telegram, Twitter, Pinterest, and many more channels are there to pull out data.
There are a lot of influencer marketing examples over the internet and its one of the best-proven business models right now. Influencer marketing's future seems super bright as the current pandemic situation has scared the whole world.
When social distancing is mandatory, people are finding it easy and comfortable to order products online without compromising their health.
Fashion Nova is getting famous in Asian countries like India, China, Japan, Hong Kong, etc. Influencer marketing agencies started growing up in these countries also due to sales & reach demand by brands.
Key Takeaway from Fashion Nova's Success
-Average pricing and influencer marketing strategy can make your brand global with increased demand and reach.
-The influencer marketing strategy will never disappoint sales if you get the right influencer.
-You have to reach end user everyday at social media platforms via influencers.
In very simple words, Everyone likes options, as quickly as possible. Social media provides it in the fastest way & that's what made Fashion Nova, the massive blockbuster brand on the internet and on our planet.


Tags: Influencer Marketing, Instagrammer, Instagram, Facebook, Twitter, Influencers, Kylie Jenner, Cardi b,Fashion Nova